What's the State of the Louisville Housing Market?
The Shelves Are A Little Too Empty
Like most of the country, the Louisville market has lots of demand from potential home buyers. Consumer confidence is strong, employment statistics are good -- and even though there's a lot of complaining about mortgage rates rising, they are still FAR below long-term averages. Our "affordability index" is high, with most families with "average incomes" earning over 1.5x what they would need to buy the "average home" in Louisville. So, it's all good, right?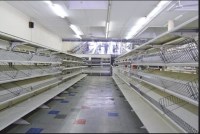 Well, it's pretty good, but there aren't enough Sellers in the market right now and the supply of homes is low. There are lots of theories, with the most likely being that many people re-financed into extremely low rates in the past couple of years, and are simply enjoying staying put with low mortgage payments. Another is that people who want to move are afraid to list because they're not sure they can find a new home. Of course, the cure for this is for more people to start listing and selling!
The National Association of Realtors states that in a "balanced" market, there is about 5-6 months of housing "inventory" (meaning it would take 5-6 months for Buyers to absorb all the homes if no more were listed). Anything higher than 5-6 months is a "Buyers' Market", and anything less is a "Sellers' Market".
This is a story of Supply and Demand -- when supply is low and deman is high, prices rise. That's what we have seen in our market over the past 1-1.5 years, with many listed homes selling almost immediately, with multiple offers, and often over asking price. This means it's a wonderful time to list and sell your home (low days on market and a high selling price), but finding your next home requires a little more skill and effort than normal.
Whether Buying or Selling, call us! We have the skills and work ethic to present your home to the market if your a Seller, netting you the best possible price and terms. We also have the ability to notify you immediately and make sure you are the "first to know" when new listings hit the market!
If you have any questions or would like to discuss buying or selling in more detail, call us or complete the form below!